What Do We Do?
Science Peer Academic Coaches help students achieve their version of academic success through one-on-one coaching conversations. Meet with a coach to set goals, discuss study habits, brainstorm ways to improve learning, and co-create a plan of action moving forward.
An SPAC Coach can help you improve on:
time management
exam preparation strategies
note-taking skills and more
study techniques
Why See an SPAC Coach?
An SPAC Coach can help you if you are considering these questions:
How do I balance all my assignments, lab reports, exams, and work, while still staying healthy?
How come I can't remember anything from the lecture I just attended 10 minutes ago?
I have 8 chapters to read this weekend for 3 different classes, where do I even start?
How do people use their lecture notes to study for an exam? Am I doing it right?
What's the quickest way to memorize things for an exam?
How Does It Work?
Students can drop by our coaching space (see below) when classes are in session, or book an appointment. For an appointment, the Coach will reach out to the student directly via email within two business days to set up a meeting time and location.
A coaching conversation is based on an individual's needs but will typically look like:
Finding out what questions a student has or what they're interested in discussing
Learning more about the student's schedule, goals, current obstacles, areas of focus etc.
Brainstorming study strategies and techniques for the student to use
Working with the student to create appropriate solutions and developing a plan of action
Determining a method of follow-up the student prefers, and how often
All conversations with a coach are confidential.
Want an Academic Boost?
Students who work with an SPAC coach see up to a 10% increase in their grades.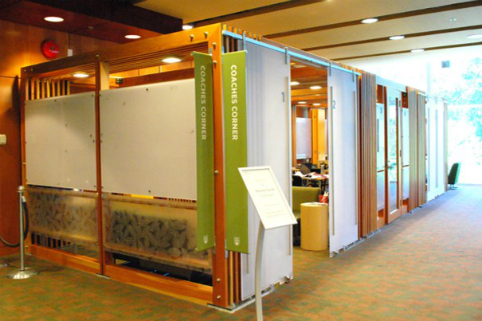 SPAC's Coaching Space
You can visit an SPAC Coach in our drop-in centre for one-on-one academic coaching when classes are in session. SPAC coaches are happy to chat with you to create a study plan, discuss time management strategies, and more.
SPAC coaches will help you complete an Action Plan that will outline the immediate steps you should take to achieve your academic goals. Throughout this process, coaches will familiarize you with various on-campus resources that you can use to support your academic success.
Looking for a coach outside of drop-in? Book an appointment with a coach and meet with them anywhere on campus.
3rd floor, Irving K. Barber Learning Centre
12 pm - 5 pm