When you practice and teach others course material, it is easier to remember the information and recall it at a later time.
You've likely heard that study groups are a good idea, but why? Do you know what will help them to be productive and not just another outlet of your precious minutes?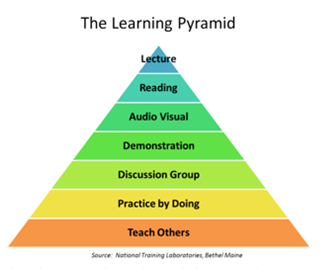 The Learning Pyramid
It starts with something called the learning pyramid, which offers a rough idea of how much info you retain using different methods.
With lecture alone, you retain the least
Demonstration still has you retaining less than half the material
Practice and teaching others gives you another significant bump to remember the most
In 2015, UBC Science students told us that having more study groups was the number one thing that they wanted in order to do better in their courses.
Did you also know that students who spend time on course material throughout the whole term are more likely to do better in future courses? Why?
There's more time to process the info and commit it to long-term memory
Courses continue to build on this foundation of knowledge
The more you know now, the less you have the review in the future when adding new info
Students who study 2-3 weeks right before final exams are more likely to forget what they've learned after the exam
---
Steps to Establish a Shiny New Study Group
When Actually Hosting the Study Group...
When the study group meets up, the lecture summarizers (see step 5 above) can teach/present the concepts to the group and facilitate a review/discussion to help everyone to understand the material.
If there are problem sets to review, have members work through them individually either in the meet-up or on their own time afterwards; bring back questions or areas members are getting stuck for discussion at the next meet-up.
Make sure that there are opportunities for everyone to speak and ask questions at each meet-up. If there are a mix of folks who are louder and quieter, ensure that your meeting structure includes a time for the group to check in with each individual and ask if they have any thoughts/questions.
Now that you've got a great start to your study group, find a place to meet up – we've got some suggestions!