When you practice and teach others course material, it is easier to remember the information and recall it at a later time.
You've likely heard that study groups are a good idea, but why? Do you know what will help them to be productive and not just another outlet of your precious minutes?There are a few keys to making study groups productive and efficient, even if you're tackling your subjects virtually.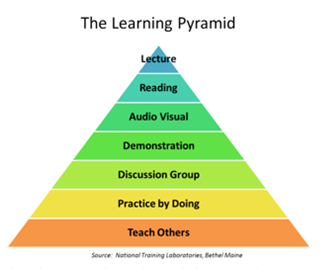 The Learning Pyramid
It starts with something called the learning pyramid, which offers a rough idea of how much info you retain using different methods.
With lecture alone, you retain the least
Demonstration still has you retaining less than half the material
Practice and teaching others helps you retain the most knowledge, and be able to apply it to tests, assignments, and group discussions
Did you also know that students who spend time on course material throughout the whole term are more likely to do better in future courses? Why?
There's more time to process the info and commit it to long-term memory
Courses continue to build on this foundation of knowledge
The more you know now, the less you have the review in the future when adding new info
Students who study 2-3 weeks right before final exams are more likely to forget what they've learned after the exam
UBC Science students have told us that having more study groups is the number one thing they felt would help them do better in their courses. While you can't hunker down in Woodward with a few classmates and whiz through course material this year, online learning doesn't have to make study groups obsolete. Here's how you can make the most out of study time while taking advantage of the online platforms you're already used to.
---
Steps to Establish a Shiny New Online Study Group
When Actually Hosting the Study Group...
Now that you've got a great start to your study group, it's time to start acing those quizzes!
Partially adapted from National Training Laboratories. Bethel, Maine & www.keeplearning.ubc.ca