Fourth year is the time to reflect on your experience at UBC.
Your fourth year at UBC may feel intimidating. You may or may not be graduating this year, and there is a good chance that you are starting to feel daunted by questions about your future. Questions like, "How can I stand out to employers?", "What can I do with my degree?" and "What happens if I don't get into my preferred graduate program?" are common for UBC students in their upper years. Answering these questions is going to require consideration of factors that are unique to you.
Reflect and ask questions
This year, commit to spending some time reflecting on what you have experienced over the last three or so years in UBC Science.
Who are you?
What are your strengths and interests?
What do you value and know about environments in which you thrive?
What external factors will inform the way you pursue the first few years in your career or graduate study?
Will you stay in Canada? In Vancouver?
The more you know about yourself and understand what you have to offer, the more successful you will be locating environments that will value your skills and ideas, and the better equipped you will be to seek out experiences that matter to you.
Questions to ask yourself
What work environments will appreciate my strengths and enable me to live out my values?
How can I challenge myself to step into more responsibility on projects or in teams? How can I start to deepen others' trust in my abilities?
What resources, online or in person, can I leverage to further my message about who I am and what my interests, strengths, and capacities are? (Consider: connecting with UBC alumni from your specialization on LinkedIn, attending conferences and joining professional associations)
How can I connect with individuals or communities operating in my field outside of my campus community?
Who do I know will vouch for my abilities? How can I prioritize maintaining or growing these relationships?
Tips to transition from study to work

Seek out professional associations in your field(s) of interest
These are great places to grow your network, attend professional development sessions, and look for jobs.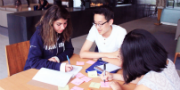 Attend a Job Search Strategies workshop
Having a strategy that suits your employment needs is going to be essential.
Spend some time researching
Do your research and consider what to expect from your first 3 years of employment.
Allison is a Career Educator at the UBC Centre for Student Involvement & Careers and is an expert in career development. Connect with additional resources and workshop schedules from the Centre for Student Involvement & Careers online.