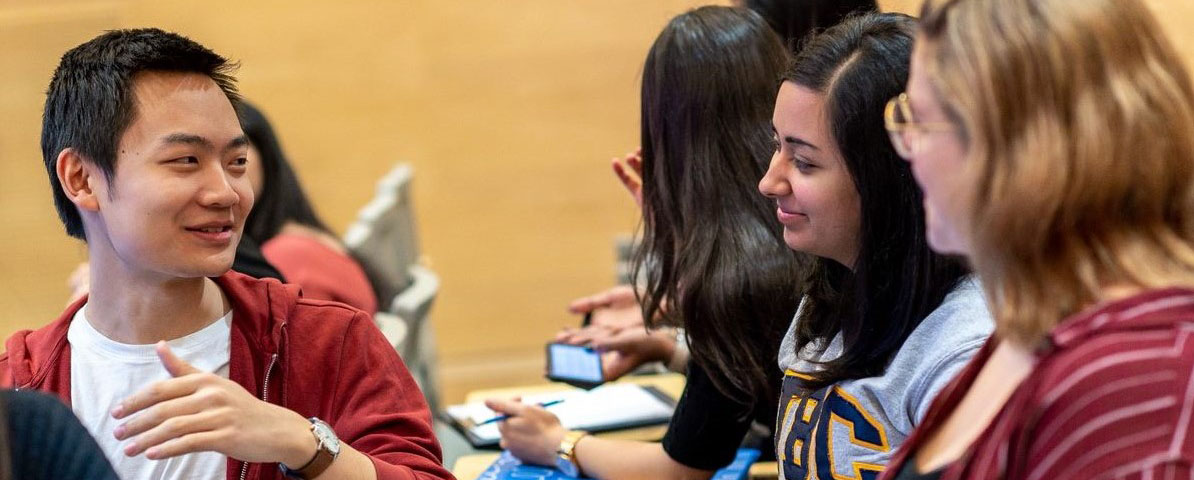 This guide will help you navigate the requirements and application processes involved in transferring to UBC Science.
Who is a Transfer Applicant?
Anyone seeking admission after studying in a different post-secondary program at UBC or elsewhere. That includes:
Students currently (or previously) enrolled at a different post-secondary institution and who have not completed their degree.
Current UBC students enrolled on a different campus of UBC (i.e. Okanagan) or in a different program on the Vancouver campus.
Students who left the UBC Vancouver BSc program in good academic standing, went elsewhere to study, and now seek re-admission.
UBC Vancouver BSc students on academic leave have a different mechanism for regaining eligibility. Check your
Student Service Centre
account for instructions.
Students who were previously registered in the BSc degree at UBC Vancouver and were required to discontinue due to academic performance must refer to the re-admission instructions found in the email that provided their sessional evaluation decision.
What are the minimum requirements?
Application for undergraduate admission to the Faculty of Science must follow the general process and requirements, which are established and handled by the UBC Undergraduate Admissions office. Please see you.ubc.ca/applying-ubc/requirements/ to check the University's general admission requirements; as a transfer student, you'll need to meet the high school admission requirements in addition to the requirements for transfer students.Connect directly with Undergraduate Admissions if you have any questions about these general admission requirements.
Be sure to also fulfill the minimum academic pre-requisites specific to the Faculty of Science, as well as the promotion requirements for second year standing.
Please note, admission to UBC is competitive, and satisfying the minimum academic requirements above does not guarantee admission. UBC may review your entire academic record to ensure that your courses align with the requirements and expectations of the Faculty of Science. Consistent academic performance and perseverance, progressive course sequencing with increasing rigour, and comparability with studies at UBC are among the factors that help demonstrate your suitability and readiness.
All courses must be completed by the end of April to be part of the admission evaluation. Summer courses don't enter into consideration. If you do continue to study elsewhere after being admitted to UBC, you will need to provide an updated official transcript once those grades are available. You will follow the instructions provided in your application and subsequent correspondence to submit this to Enrolment Services at UBC in order to seek added credit.
What's the Process? Step by Step
Apply to UBC
First, apply at you.ubc.ca to the Bachelor of Science – BSc degree. The application deadline is in January each year to start your studies in September. There is only one application intake period each year.
If you're currently enrolled on the Okanagan campus or in a different degree program on Vancouver campus, apply to change your degree program or campus via the Student Service Centre.
The application process is managed by UBC Undergraduate Admissions, not directly by the Faculty of Science.
Will my high school transcript(s) be required?
The UBC Undergraduate Admissions office will contact you for any outstanding documents. In most cases, if you will be presenting less than 24 credits transferable to UBC, or if your post-secondary transferable coursework does not present all of the minimum academic pre-requisites specific to the Faculty of Science, your high school transcript will be required.
Apply for a specialization in Science at UBC Vancouver
The Faculty of Science at UBC Vancouver offers an abundance of specializations (e.g. majors, honours). You must first have applied to the Bachelor of Science – BSc degree, then in June, apply for your top three specializations through a separate process operated by the Faculty of Science: the second year specialization application. More details about the application are included further down this page.
Although no students are directly admitted to any specializations in Science, you can plan to take transferable courses that are specifically required for your intended specialization.
If you have more than 48 transferable credits, you MUST be eligible for Year 2 standing. To gain second-year standing you need at least 24 credits which includes a minimum of 15 first-year (100 level) science credits, in addition to meeting the minimum requirements and pre-requisites outlined in the section above. 
Determine how many transfer credits you have
Transfer credits are limited to courses at the 100- and 200- level, and at least 50% of the credits required for a BSc degree must be completed while you are a student in Science at UBC. For more information, please visit the "
Transfer Credit
" section of the Academic Calendar and the
Transfer Credit Search Tool
.
Studying in BC?
It's pretty simple. If you're studying at another post-secondary institution in British Columbia use the BC Transfer Guide to determine how many credits you'll receive. (www.bctransferguide.ca).
Transferring from another UBC program?
Most, but not all, UBC courses, may be applied to your BSc degree. Some courses may not get credit in Science (e.g., STAT 203, EOSC 310). The online Course Schedule has a description of each course and any restrictions that apply.
Transferring from Applied Science at UBC Vancouver: The first-year MATH and PHYS courses you took will apply to most specializations in the BSc. If you want to specialize in physics, consult an advisor in the Physics department. First-year engineering CHEM will satisfy half of the Physical Sciences Lower-level Requirement for the BSc. However, to enter any specialization that requires CHEM 123 or 113, you will have to start with CHEM 121 or 111. Similarly, APSC 160 isn't sufficient to advance to second-year CPSC courses in a BSc specialization.
Transferring from UBC Okanagan: Many of your first-year science courses (those for science majors) replace similar courses offered on Vancouver campus even if the course numbers differ. You can find out how your courses transfer using the UBC Equivalency Search.

Note: Applicants with coursework in EOSC or GEOG/GEOS should consult an advisor in Earth, Ocean and Atmospheric Sciences. Transfer credit and exemptions are possible, depending on coursework and combinations.
First-year credits through enriched high school courses
Applicants with enriched high school courses (Advanced Placement, International Baccalaureate, British-patterned) you may be eligible for additional first-year credit(s). Please refer to you.ubc.ca/applying-ubc/applied/first-year-credit/ for more information and transcript requirements.
Studying outside of British Columbia
If you're studying outside of British Columbia your courses may or may not transfer easily into the UBC Science program. To transfer smoothly, your science courses must match ours.
For example, the first year of CHEM at UBC consists of two courses, the second of which addresses organic chemistry in more depth than at most universities. You may be given credit for the first term (CHEM 121) but generic credit (CHEM 1st) for a second course. That combination usually will allow you to move into second-year CHEM courses at UBC but you may need to do additional preparation for your second-year courses. Speak to the department advisor (see Chemistry regarding CHEM courses). Do this well in advance of your July registration date so you can plan your course selection effectively.
More Details: How to Apply to a Second Year Specialization
Most successful transfer applicants are admitted into Year 2 of the BSc. Your year level is visible in the Student Service Centre. Once you accept your offer of admission, you will automatically be included in the Year 2 application process and will need to apply for your top three specialization choices. You will have several options, depending on which first-year courses you have completed. There are specific first-year courses that are required for entry into specific specializations.
UBC Science runs a coordinated admission process for second-year specializations in June. All Majors, all Combined Majors, and second-year declarable Honours or Combined Honours specializations must be applied to via the application. Any transfer student admitted to second year of the BSc program for the upcoming winter session will apply for a specialization through this same process – please note, specializations can be competitive and you may not be admitted to your first choice. Ensure you are eligible for your top three choices before applying.
Are You Eligible for Third Year?
If you have 48 or more transferable credits and there is a possibility that you qualify for third-year standing, you will be notified by the Undergraduate Admissions Office through a note in your acceptance letter or as seen on the Student Service Centre under Applicant Status. If you receive that note, you'll need to complete the Admission to Year 3 – Supplementary Information form and submit it to UBC Science. On the form, you will indicate your preference of specialization and compare your completed courses with the requirements found in the Calendar. You must meet the minimum requirements for promotion to third year in a BSc specialization within a maximum of 78 credits of coursework attempted. Your form will be reviewed to ensure accuracy and placement in the specialization depends on available space. The sooner you submit the form, the sooner your status can be determined, which will determine your choices for course registration in July. Don't delay this step.
Looking for more resources about life as a transfer student at UBC? Your next steps is to check out our guide on course selection, academic assistance, events to look forward to, and orientation.
Find out what's next for you: science.ubc.ca/students/transfer