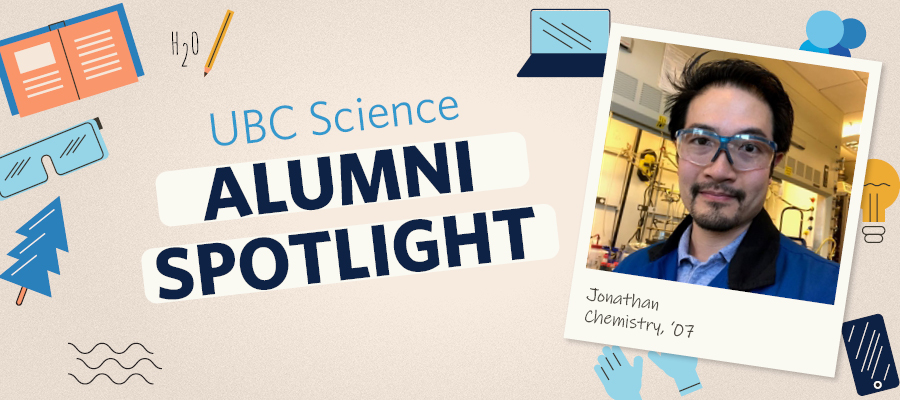 UBC Science alumni have gone on to build meaningful and fulfilling careers in sectors around the world. Our conversations with alumni have told us that your journey through Science and beyond isn't a linear path but a complex navigation of right and left turns, and even some dead-ends, that will eventually lead you to where you're meant to be.
Our Science Alumni Spotlight Series will show you the breadth of career paths that UBC Science alumni have pursued, and offer a fresh perspective on new opportunities to discover.
---

Jonathan
BSc, Chemistry, '07
Current Job Title: Medicinal Chemist
Current Company/Industry: Takeda Pharmaceuticals
Current City: San Diego
How does the major your studied in your undergraduate degree relate to your current work?
My major is directly relevant to my current work. My current role is lab based, and I use the knowledge and skills I developed in my BSc on a daily basis.
What choices did you make during your degree that contributed toward your career path today?
I took a wide variety of electives in my program, which really helped expose me to different types of chemistry and their applications in different commercial and industrial sectors. Interacting with other students and researchers in these subfields, and hearing their experiences really helped in my decision to pursue my career.
Did you have any meaningful experiences at UBC outside the classroom that helped contribute to your skillset?
I applied for an NSERC summer research award, which let me participate in academic research labs at UBC. There I was able to interact more closely with professors, graduate students, and other researchers who contributed to my lab training, problem solving skills, scientific writing, and many other skills!
What do you wish you knew before graduation?
I thought I had a perfect plan for the future after UBC... but plans change! It's okay to change your mind - and you don't have to figure it out alone. Talk to your peers, find mentors, and network with others in your field.
What kind of challenges did you encounter in your career after graduation?
After graduating from UBC, I enrolled in a graduate program that I ultimately realized was not for me. It took a long time to come to the realization and then to change course. Eventually I did earn my doctorate, but it was not according to the plan I had at the end of my BSc!
Does your current occupation align with what you had planned when you entered UBC? How about when you graduated?
Not at all! I thought I would end up in the medicine or health care field when I started out as a first year student. At the end of UBC, I thought I would end up doing academic research at a university or an institute. Now I am performing research at a pharmaceutical company that can potentially improve the lives of patients.
What is something career-related that surprised you after graduation?
Research is a truly collaborative effort! Whether it's academic or industrial research, the success of an experiment, project, or company depends on many people with different areas of expertise. I think there's an idea in society that great advances come from genius professors alone in the lab, or some eccentric billionaire doodling on a blackboard, but this is almost never the truth.
Do you have a specific career plan from now until your retirement?
I don't have a specific career plan right now. My field, like many others these days, is quite dynamic. It's uncommon for someone to stay in the same role or even in the same company for the entire duration of their career. For me, I expect my future role will involve managing teams of scientists and training junior scientists, which I think would be very exciting.
Jonathan's last word:
UBC really is a world-class institution. Cherish your time there, the knowledge you gain, and the people you connect with!
---
Do you usually work:

---
Do you do most of your work:

---
In your current position, are you more:
---
Are you making:
---
Do you find your work is:

Responses have been edited for clarity and brevity.