Biophysics alum welcomes the volunteer chain reaction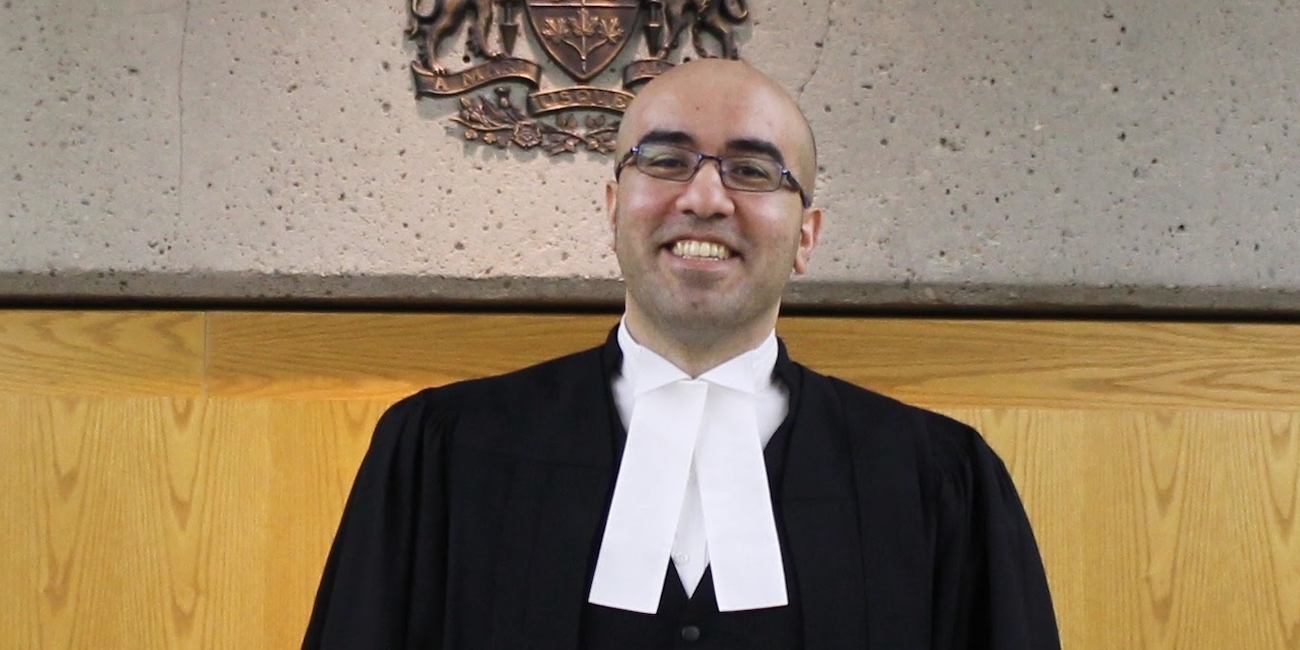 Aminollah (Amin) Sabzevari
BSc 2008
For alum Aminollah (Amin) Sabzevari, science has led to a career in law—which eventually wound its way back to the Point Grey campus.
As an undergraduate, Sabzevari (BSc Honours, 2008) studied biophysics. But as he drew closer to graduation, a general interest in health became more focused on the laws and ethics surrounding health issues.
"When I went to UBC Science alumni events I met people working on biomedical start-ups," says Sabzevari. "I found out that having scientific background can be helpful because you need to understand the science when you're dealing with intellectual property law."
After earning his Bachelor of Science, Sabzevari went on to UBC's Allard School of Law and then the University of Alberta, where he earned his Master of Law. After clerking for a year with the Provincial court in Calgary he began his career as a lawyer in 2015 with the Federal Department of Justice (DOJ) in Edmonton.
"I work in the tax section dealing with bankruptcy, insolvency and tax law," Sabzevari explains. "But I also picked up files from immigration judicial reviews dealing with applications for permanent residence and refugee claims."
Recently, he relocated to the DOJ office in Vancouver, which provided him an opportunity to give back to his profession through teaching at UBC.
"This fall I taught bankruptcy and insolvency law as an adjunct professor at UBC's Allard School of Law, and next year I'll also be teaching a course on creditors 'remedies," Sabzevari says. "These are areas where I've built up expertise as a representative of the federal Crown that I'd like to pass on to the next generation of lawyers."
The courses, taught in addition to maintaining his full-time practice, keep Sabzevari busy, but he still finds time to volunteer as he's done throughout his life.
"A lot of it comes from my parents because they do a lot of volunteering in the community. I think that probably inspired me to get into it myself. My mom always says that my first volunteering was in Grade 1. Because I could speak Persian, I volunteered as a translator for students who had recently come to Canada from Iran. But most of my volunteering started in high school, continued at university and on to the present day."
Sabzevari was able to use the flexibility of university life to share his time in the gaps between classes and weekend study sessions.
"When you volunteer once, it's kind of like a chain reaction where you meet motivated people and you think: Oh, that's interesting—I want to do that! And so you flow from one thing to another. It was challenging sometimes but it also develops your time management skills. And volunteering was enjoyable because it's a different thing from studying or being in class. Plus it's a great way to meet people on campus."
Another pathway into volunteering and mentorship came through Sabzevari's involvement in sports, particularly the ultimate Frisbee he enjoyed playing while a UBC student. As a professor, he's now eligible to play again in UBC's intramural league. He created the ultimate team for Allard, which allowed him to answer the questions of first-year law students and build relationships chasing a flying plastic disc.
"I like to do some non-law volunteering too because I don't want to get trapped in the law bubble," Sabzevari says. One activity he's kept up since university is judging science fairs.
"I've judged at regional science fairs like the Greater Vancouver Regional Fair at UBC for 15 years, so I still draw on my science background to judge projects and give advice on things like control groups and students' future studies. Then there's also the law aspect—asking the students questions and the negotiation and discussion among the judges to determine the winners. It's one of the highlights of my year and I'm always looking forward to it."