The Faculty of Science is a key incubator of educational innovations at UBC, and beyond. Led by our education initiatives and the dedication of world class professors, we've transformed our science courses, improving the classroom experience of thousands of UBC undergraduates every year.
50+ teaching fellows
Have supported UBC Science faculty members in adopting evidence-based, interactive teaching methods.
200+ courses
Have been transformed over the past 10 years—over 100 of them undergoing substantial improvements.
16,000+ students
A year take transformed science courses—representing about three-quarters of student FTEs in the Faculty.
Interactive teaching
Methods have helped to substantially increase student learning and success across the entire Faculty.
Skylight: The UBC Science Centre for Learning and Teaching
UBC Science's education research and innovation hub, Skylight works across the Faculty and with other units to contribute to the body of theoretical and practical knowledge about learning and teaching science, and to help students expand the depth and breadth of their learning.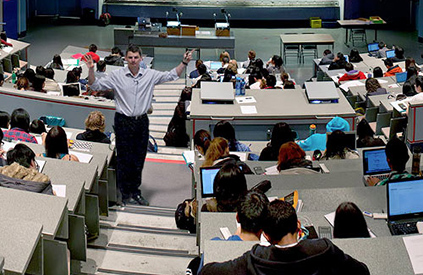 Carl Wieman Science Education Initiative
A 10-year, multi-million dollar initiative working with departments and students to improve science education at UBC. The CWSEI has transformed more than 180 courses and improved the learning and success of 16,000 students a year.
Committed to Open Learning
Via Coursera and EDx, UBC Science offers free genetics, computer science, game theory and climate literacy non-credit courses online. We've also developed free, open textbooks in a growing number of classes, including math and physics.
Flexible Learning in Science
UBC's flexible learning initiative develops, delivers and evaluates learning experiences that promote dramatic changes in student achievement. Flexible learning enables pedagogical and logistical versatility, often facilitated by technology.
Undergraduate Education
Departments
Teaching and learning at UBC Science is conducted across nine departments and 25 program specializations, providing a broad range of educational options.
First-Year Science Programs
The Science One and Coordinated Science programs complement the standard curriculum at UBC Science, offering students a variety of ways to structure and focus their first year.
Program Specializations
UBC offers a broad, relevant and forward-looking array of programs in the life, physical, earth, mathematical and computing sciences.
Co-op and Professional Development
UBC Science Co-op programs encourage students to take their education and skills into the real world, helping them build that all-important professional network.
Beyond the Classroom
Removing Barriers to Science Education
Science 101, the Faculty's Indigenous Initiative, the Jade Project and other initiatives are designed to lessen economic, cultural and gender-based barriers to science education.
Internationalization and Global Citizenship
The Faculty's Co-op programs and exchange programs encourage students to make their education a truly international experience. UBC Science also works to attract a geographically and culturally diverse student body, helping all undergraduates benefit from global perspectives.
An Eye to the Future
UBC's dual degree in Science and Education extends the Faculty's commitment to science education beyond the University, helping to bolster the next generation of science teachers in high schools and elementary schools across Canada.
New labs and classrooms
Upgrading UBC's Life Science's Labs
A $20 million investment from the provincial government will enable UBC to upgrade and expand the aging teaching and laboratory space used by life sciences students at the university's Vancouver Campus.
State-of-Art Earth Sciences Facilities
UBC's Earth Sciences Building features large up-to-date teaching spaces, new computer labs, and geoscience labs with a public view.
A Dedicated Home for Science Students
The Abdul Ladha Science Student Centre—funded by UBC Science students and the generous support of technology entrepreneur Abdul Ladha—offers a dedicated space for UBC's 8,000 science students.