UBC grad student is helping underrepresented youth get into STEM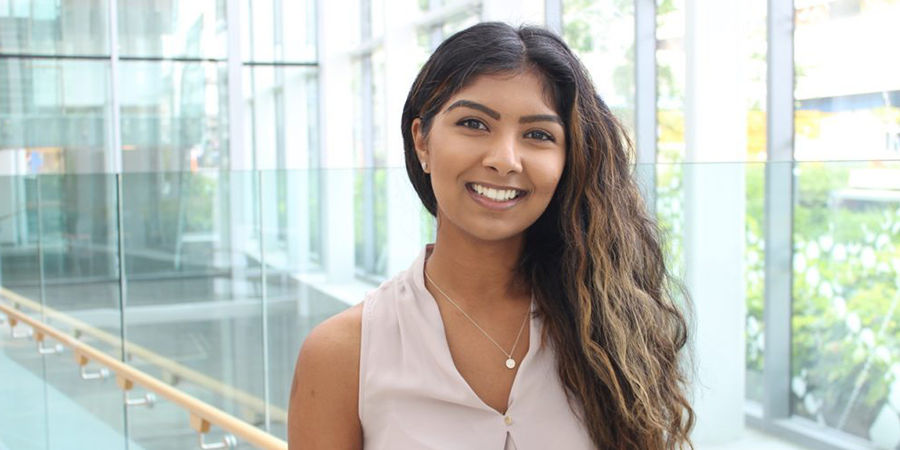 Shawna Narayan, MSc Candidate in Experimental Medicine
Shawna Narayan (BSc '18) is the founder of Empower the Future, a non-profit that helps marginalized youth overcome post-secondary challenges. Empower the Future recently won Surrey's Civic Distinction Award. She discusses how her own experiences shaped her efforts to  reach out to inner-city youth.
How did you become interested in diversity in STEM?
When I was studying physics at UBC, I was the only woman in some of my labs. I'm also an ethnic-minority and growing up I didn't have many mentors. I wanted to play that role in helping other students, especially inner-city students.
What is some of the outreach work that you've been focusing on?
Originally, we were funded by the Centre for Community Engaged Learning at UBC to develop programming for women in STEM. But after discussing it with students and teachers, we decided to include more groups and call it Diversity in STEM. We did Diversity in STEM workshops in Surrey schools, discussing program requirements and different career options. Now we've developed a booklet called Discover STEM, which helps students understand the career options available to them.
How does a resource like the Discover STEM booklet assist students?
The booklet showcases the different experiences of science students. Hopefully readers can identify with the students we feature, and also see that there are financial supports and resources available. Sometimes you have to go through different websites in search of information, so we've done that already and put it together in one place.
What are some of the barriers that you frequently see?
There are many challenges in finding resources and opportunities. As an inner-city student from Surrey, my own transition to post-secondary school was difficult. I didn't have the skills and resources that many other students had. For example, we didn't have advanced placement courses or opportunities to get involved in research at the high school level—other schools did.
What do you have planned for new programming?
We'll be running workshops online. Our Q&A's have been really popular. So, we'll roll out a social media campaign with commonly asked questions about STEM and post-secondary schools and life after high school. We are also planning to run a mentorship program with several clubs at UBC.
Where do you see yourself in a few years?
I'd like to mention that I've switched from physics to experimental medicine. I want other students to know that it's okay not to know what you want to do and it's okay to try things out and to do things that you like. I'm currently a graduate student and I love it. My research focuses on the mental health of ethnic minorities, specifically looking at how we can improve online resources and gather recommendations for future services. Later on, I hope to complete my PhD and work on community-based research.