Retired RCMP officer has bone (marrow) to pick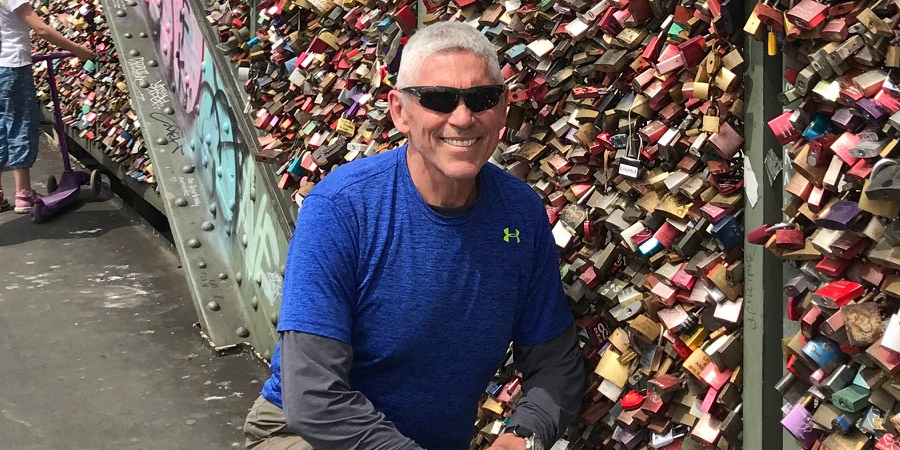 Jeffrey Lott smiles for the camera in Cologne, Germany. Photo: Jeffrey Lott.
Jeffrey Lott (BSc '73) joined the RCMP right after graduating from UBC Science, and spent almost 40 years in the force. The former Nanaimo RCMP Superintendent is now retired, but his sense of duty and service still pulls him into critical missions that can take him around the world. Lott is a stem cell and bone marrow courier, and his work has been honored with the Governor General's Sovereign's Medal for Volunteers. 
How did you become involved with the Bruce Denniston Bone Marrow Society?
Bruce was an RCMP Constable and my friend. In 1987, he was diagnosed with leukemia and needed a bone marrow transplant, but no one in his family was a compatible donor. Back then, there wasn't a sturdy Canadian registry, we had to use word of mouth. Many members of the force volunteered to have their blood taken hoping for a match, but it was too late for Bruce and he passed away. The Bruce Denniston Bone Marrow Society was formed after that. It helps the registry find matches as quickly as possible.
How did you become a courier for them?
The courier system started over five years ago. The society has always had strong connections to the RCMP, so in the beginning it was only police officers who served. Now there are 15 of us, the majority of the couriers are either retired RCMP officers or retired medical practitioners from the bone marrow transplant unit. We transport stem cells and bone marrow, which is used by doctors at Vancouver General Hospital and BC Children's Hospital.
How many trips do you make?
Each courier gets about six to eight trips a year. They try to find matches locally, but if that doesn't work, they look at the international registry. If there's a match, arrangements are made to collect the material. I'm usually given two weeks' notice. We get a cooler and a set of instructions and off we go. We have 72 hours to get back to Vancouver from the moment the material is harvested, so I don't go anywhere without my cooler.
Is this because the tissue would degrade otherwise?
Yes. The cooler keeps the tissue at the right temperature. You can't pass it through X-rays, either. And you can't be delayed. If there's a problem with your flight, you need to figure out a way to get back quickly. It's not glamorous, but it's important. Patients need these transplants.
Learn more about the Canadian Blood Services Stem Cell Registry.