Forging ahead: Iola Musfeldt was a biology pioneer during World War II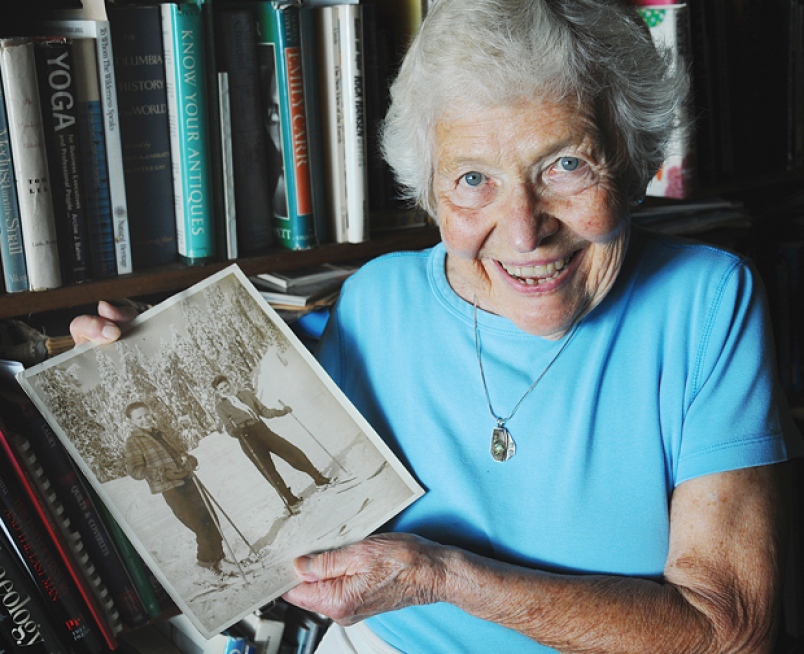 Iola holds a picture of herself and a friend skiing in 1946. Photo: Cindy Goodman, North Shore News
Pioneering wildlife biologist Iola Musfeldt (BA'45, MA'47) completed the first study on muskrats and their parasites in BC. Later on she worked to track down the source of a human trichinosis case. To do this she offered a 25-cent bounty on rat tails. She talks about the very real challenges of being a young woman pursuing science during World War II.
Iola W. Musfeldt Knight
BA'45, MA'47
What was UBC like in the 1940s?
UBC ballooned. In 1944, there were about 2,000 students, but by the fall of 1945 there were 10,000. Men were coming back from the war and could get their degrees paid for by the government. I was doing my Master's degree at the time and later the federal government opened a research lab focused on animal health on campus. I went to work there.
How difficult was it being a woman in the sciences back then?
Few women pursued science, those who did mostly studied bacteriology, chemistry, botany. I wanted to study at the Ontario Veterinary College but they said they couldn't accept women as students. During World War II women had to take up the jobs of men when they went to war. In 1944, I worked for the Game Department. They needed someone to check hunter's bags and check guns on the ferry landing at Ladner, to make sure they complied with regulations. One time the wife of a hunter was shocked to see a young woman handling a gun, but that was my job. When I got married, the Federal Department of Animal Diseases fired me because they didn't employ married women. I had my wedding and I was given six months to leave!
Any highlights from your time with the department?
A trichinosis mystery. Trichinosis is a parasitic disease caused by roundworms. A Vancouver man had shot a bear and made bear steaks—which was common back then. He ate the meat and died of a trichinosis infection. My job was to find out how the bear became infected. I thought it might have eaten some bad meat, so we focused on rats in garbage dumps that might be carrying the disease. The ravines around Marine Drive were used by locals to throw garbage into and I hired a trapper —Gordon Dowding, a law student who became an MLA and later on Attorney General for BC— to catch rats for me, paying him 25 cents for each tail. That's a resourceful way to work your way through college! When I analyzed the rats, I found they were infected. Then we had to trace the food they ate. We found the possible source of the infection on Mitchell Island where farmers were feeding undercooked slops and food waste to their hogs—you have to cook the food waste up to a certain boiling point to kill any organisms.
You later came back to UBC.
I had to leave my job in 1950 but by 1952 UBC had acquired an electronic scanning microscope and dermatologists wanted to use it for cortisol studies. One of my passions has always been studying the structure of tissue: skin, kidney, you name it. This was a perfect fit and I was paid a good salary for the time—$200 a month. But then Canada had a financial crunch and the federal government axed all kinds of research, including my project.
Eventually you left the sciences. What did you do after that?
Fall of 1955, I took architecture drafting courses and fell in love with the west-coast modern style of houses, you know, Arthur Erickson, that kind of building. Today, our family is building a house in this style. Around 1990, now retired, my husband and I became interested in heritage structures. In 2000 we founded the Hollyburn Heritage Society, and I became the secretary-treasurer for the organization, helping collect and document the history and heritage of the local mountains of Vancouver. This society helped to rebuild Hollyburn Lodge. I was also a volunteer at the Vancouver Aquarium from 1967 to 1985. I bought a computer and a few years ago went on the Internet. I was amazed that my muskrat research is available online!