Fisheries alumna hooked on salmon research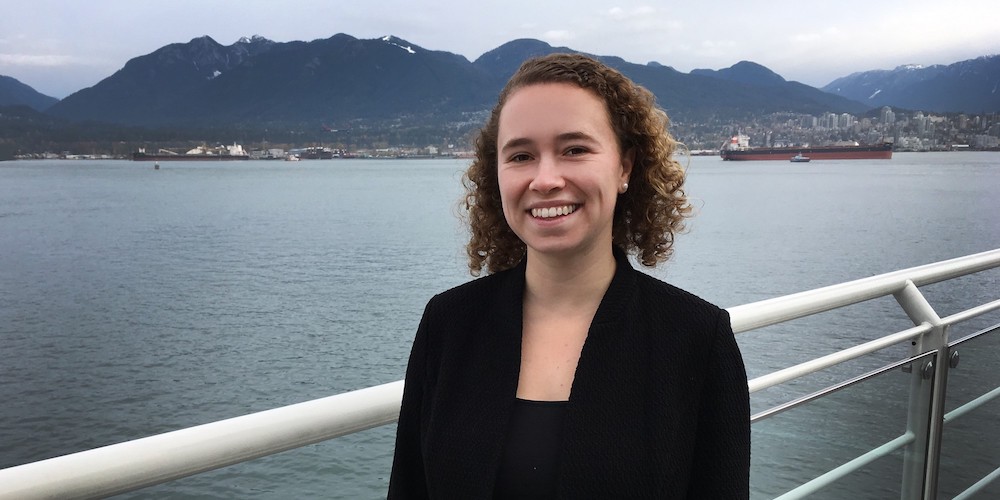 Caroline Graham, MSc in Fisheries
Salmon lead a life of mystery on the open ocean—the years between leaving their birth rivers and returning to spawn. Most of the 10 to 20 per cent of smolts that make it to the ocean will not survive, but scientists don't know what's killing them.
"It's kind of a black box," says Caroline Graham (MSc 2020), high seas expedition coordinator for the 2022 International Year of the Salmon (IYS). Graham is coordinating an international scientific expedition to the stormy winter waters of the North Pacific Ocean.
"We know a lot about what happens to salmon in freshwater, and a bit about what happens when they reach coastal areas, but the open ocean is really an understudied phase of their life cycle."
Graham's master's research at the Institute for the Ocean and Fisheries (IOF) prepared her for her role coordinating scientists from Canada, Japan, South Korea, Russia, and the U.S. as they work to understand what happens to salmon when they reach the open ocean.
Graham earned a BA at Grinnell College, a liberal arts school in Iowa. During and after this degree she explored a range of scientific fields: social aphids for a summer, coral reefs, and then pelagic seaweed species in Mexico. It was an internship with the National Oceanic and Atmospheric Administration in the summer of 2015 that first got Graham hooked on salmon-related research. She went on to do an internship with the North Pacific Anadromous Fish Commission (NPAFC) in 2017, where she continued her dive into the salmon world, this time at an international scale.
"I like the connection that fisheries have to people," she says. "I didn't find that in some of the other research I was doing. I thought it was a really valuable field, and started getting more and more engaged with it."
Through her internship with NPAFC, Graham became aware of an opportunity at UBC's IOF with Dr. Brian Hunt who was looking for a master's student.
"There's a great fisheries program through the IOF, so I feel really lucky that I found my way to that program," Graham says. "I wasn't planning to go to grad school that year, but a great opportunity presented itself and I had to say yes."
When she entered grad school, Graham wanted some experiences beyond her research. She got involved with UBC's Ocean Leaders Program run by Dr. Simon Donner, and her interest in communications led her to get involved with the Global Reporting Program at the UBC School of Journalism. Through this program she was able to travel to China to report on fisheries there.
"We have been dealing with a lot of media with the IYS expedition and working on communications materials, so it's very helpful to have the background that comes from my experience with the Global Reporting Program. It was a great experience in the formative part of my master's getting to work on that and something I would have never expected to have the opportunity to get involved with."
After graduation Graham returned to the NPAFC in 2020 as the IYS high seas expedition coordinator.
"For my master's I tried to piece together the conditions salmon face in the open ocean, specifically by studying what they are eating," Graham says. "Now I get to look at things on a broader scale, not just focusing on salmon diets but on all the different scientific research questions. I coordinate the science plans between the vessels from the partner nations so that the data collected is relevant and consistent for all the countries. It's building on my research and experience at UBC, taking it to the next level and asking some really big questions."