Elaine Leung on conservation outreach: You only protect what you love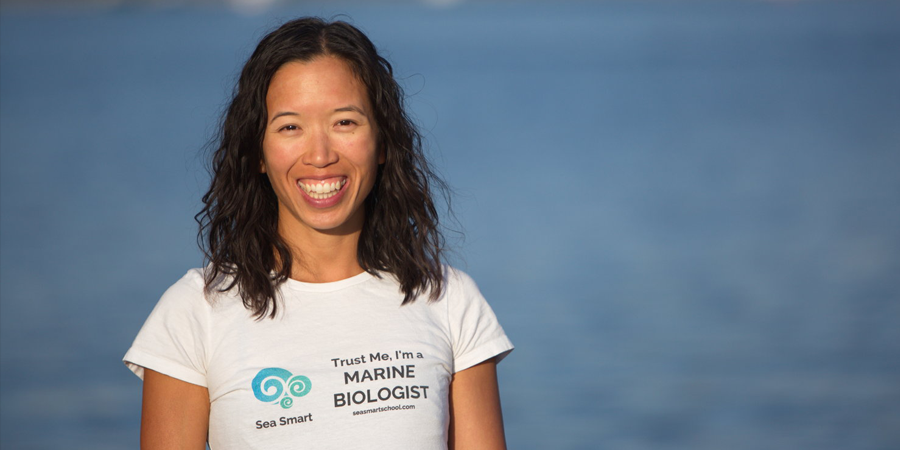 Elaine Leung. Photo: Sea Smart.
Elaine Leung (BSc '04) explains how a weak swimmer who gets seasick can develop a wicked love of marine biology. She's the founder of Sea Smart, a Vancouver-based charity that delivers ocean conservation education programs to thousands of kids across Canada and beyond.
How did you become interested in marine mammals?
It's a funny story. I get seasick and I've always been a bad swimmer. So it's not like I was one of those kids that grew up being like 'I want to be a marine biologist'! At the same time, I always recognized just how incredibly beautiful and amazing the oceans are, and I was really lucky that for my first co-op job I started studying sea lions for the UBC Marine Mammal Research Unit. The great thing about sea lions is they're based on land so sea sickness isn't as big an issue. After that I fell in love with marine biology and never looked back.
How did Sea Smart come about?
By the time I finished my PhD I realized that over 30 of the species I'd studied or interacted with would go extinct within my lifetime. The threats the oceans are facing are devastating, but at the same time I believe strongly in the power of individual action to create positive change. I wanted to do more. So I started a charity called Sea Smart. Our education programs get kids excited about our oceans and helps them foster curiosity and love for our oceans. This is important because you only protect what you love.
Why focus on children?
Kids are growing up in a world where they're losing their connection with nature and all they hear are bad news stories about the planet. It's overwhelming for adults, let alone a child. These kids might grow up in a world without turtles or whales, and they're going to have to constantly deal with major weather events and flooding due to climate change. It's easy for children to feel hopeless and start thinking that there's nothing they can do to protect the planet. This is what Sea Smart's trying to fight. Yes, we teach kids about these big threats but our programs are about actions and solutions. They're about inspiring hope, and empowering kids with the tools they need to combat climate anxiety and make a positive difference.
What can a regular person do to help the oceans?
There are many simple, tangible actions that people can take. Reducing our fossil fuel emissions. Using the car less helps. Buying local helps. Also reduce your single-use plastic usage. And never doubt the power you have as a voter, but also as a consumer. You can vote for politicians who are going to prioritize the environment; as a consumer choose products that align with your values, companies all around the world are changing their ways because that's what customers are telling them they want.
How has the COVID-19 pandemic affected your work? You've obviously delivered online lessons before, but how is this different?
Sea Smart usually delivers in person programming with our school workshops, summer camps and after school programs. With school closures, we've had to cancel most of our programs and are still waiting for advice from public health authorities if we can run our outdoor summer camps. We know that teachers are struggling to teach their students online and at the same time parents are having a hard time trying to engage and educate their kids at home. In response, Sea Smart has developed live online school workshops called Virtual Sea School that fulfil the BC Ministry of Education's requirements and relieves pressure on teachers to teach their students online. Sea Smart also developed online courses called Ocean Defender to teach kids about the amazing animals that live in our oceans and the simple actions we can take to protect them. Ocean Defender is self-lead course and kids can complete it at their own pace.