From curling to coding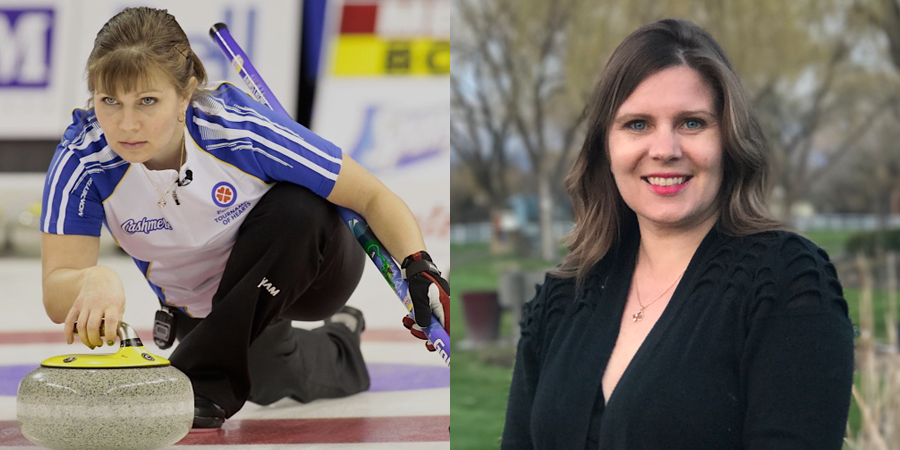 Left: Jacquie Armstrong at the 2012 Scotties Tournament of Hearts (Photo Michael Burns). Right: Armstrong has been working for Disney for nine years. (Photo: J. Armstrong).
Jacquie Armstrong (BSc 1999) is Director of technology and guest experience for The Walt Disney Company's Kelowna Studio. She discusses what athletics taught her about business, and shares advice for women who want to own the house in computer science.
Jacquie Armstrong
BSc 1999
So you are a retired competitive curler.
My parents both played and I spent many hours as a child in a curling club. After I graduated from UBC I played at the highest levels of the game, a four-time competitor at the Scotties Tournament of Hearts and a participant in the 2009 Olympic trials, retiring from competition in 2012. There's a lot of learning from high-level sports that's applicable to business.
How so?
One of the most important aspects is understanding how team dynamics and communication impact performance of a team. It teaches you how to have difficult conversations with others about their performance or commitment and honestly assess your own. Ensuring there are goals defined and everybody is aligned on how to get there, and how to manage high pressure situations, adversity and work-life-sport balance.
It's interesting that you mention teamwork, because when we think of computer programmers we tend to think of loners.
There's this perception that computer science is for basement dwelling nerds. In fact, I was reluctant to pursue computer science because of that. But my Grade 11 math teacher encouraged me to take a computer science elective and I never looked back. Computer science is about building things and solving problems. Anyone who likes math or logic should be encouraged to look at computer science.
Do you have any advice for women who might be interested in computer science?
Find a mentor, someone you admire and talk to them. Be willing to question the status quo and ask "Is this really normal?" or "Should it be normal?" And don't be afraid to take a leap of faith. Some people tell me I don't look like a software engineer and I wonder, "What am I supposed to look like?" There's no one mold.
One thing that really gave me the confidence to pursue my first real job was the co-op program I completed, I would highly recommend a co-op or intern opportunity if there is one available.
What's it like working for Disney?
There's something very cool about working for The Mouse. There's a wonderful camaraderie and it is very easy to understand how your contributions help make Disney memories for our guests. It's also a big company. Disney isn't just theme parks or animated movies, it's a huge family. It's ABC, ESPN, Pixar, Marvel, Lucasfilm and now National Geographic and Fox. There are endless opportunities for technology and transformation. The only downside is people automatically assume I'm an animator. I'm not. But I can draw stick-figure people with the best of them.