Chemistry alum gets a positive reaction to debut novel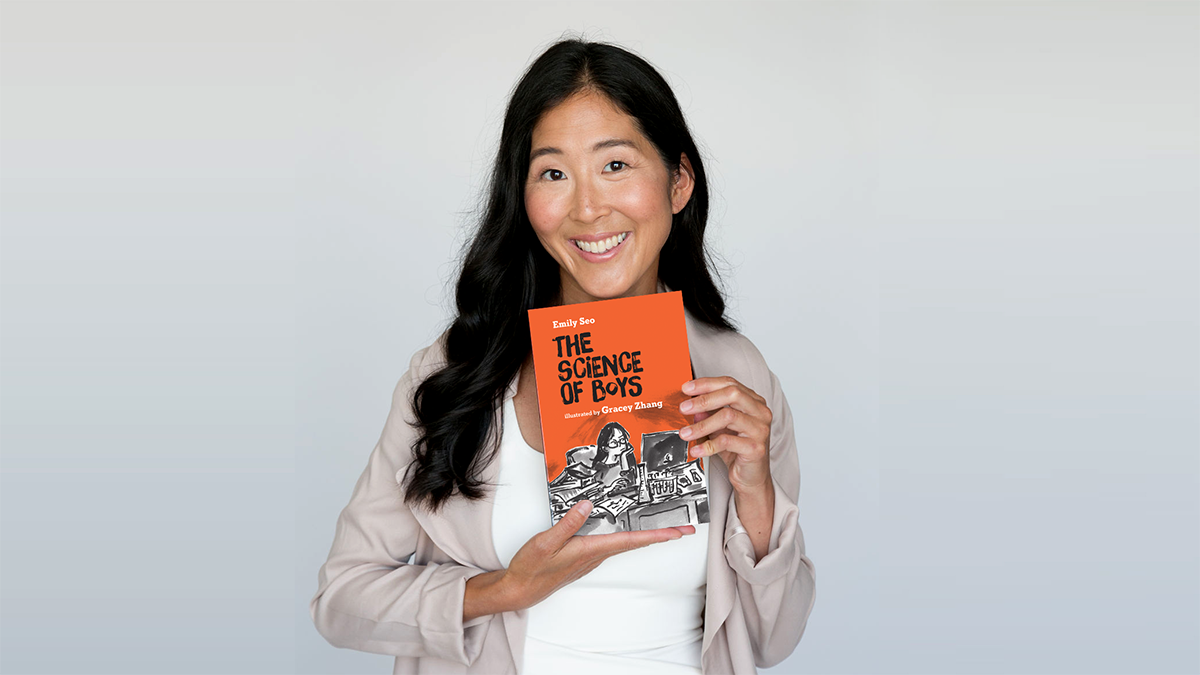 Dr. Emily Seo compares publishing her first book to earning a PhD degree—you start off with research, learn as much as you can, then keep moving forward until you hit a block and have to solve a puzzle. She's been successful at both ventures, graduating from UBC Chemistry with her doctorate in 2006, and then having her debut novel The Science of Boys published last year.
"There were times where things got really difficult and I wanted to give up," says Dr. Seo. "But I could see the end goal and always knew that perseverance pays off."
Dr. Seo has been interested in science from a very young age. "I remember asking a lot of questions as a child. Something as simple as why are the leaves changing color in the fall? Or why is ice so slippery when you go skating? Or why does our climate change?"
She chose chemistry when she enrolled as an undergraduate student at UBC and then went on to earn a PhD degree in organic chemistry before pursuing a postdoctoral fellowship in bioorganic chemistry at the University of Edinburgh. Wanting to stay longer on the east side of the Atlantic, she took on a position as associate editor for two science journals in Germany before moving back to Canada.
"As a scientist, you start to realize that your skills are transferable, whether it be the dedication to hard work or your communication and problem-solving skills, and that opens up more doors."
The Science of Boys combines Dr. Seo's background in the sciences with her passion for storytelling. The protagonist, Emma Sakamoto, is a 12-year-old science-minded girl who struggles to fit in. So when a popular girl lets it be known that she has a crush on a boy, Emma tells her that she's writing a book about the science of boys. Emma applies real science laws and theories to her advice, but realizes that human emotions do not always conform to scientific principles. Each chapter in The Science of Boys covers a different scientific concept.
"Because the main characters are in Grade 8, I looked to the B.C. science curriculum for inspiration," says Dr. Seo. "In a chapter themed around condensation, Emma compares lies to gases in the atmosphere and how, like gases, lies can be invisible but under the right conditions condense, and be revealed."
Beyond teenage angst, The Science of Boys is also a rallying call for girls and women in STEM. According to Statistics Canada, 34 per cent of Canadians who have science and technology degrees are women, but they make up only 23 per cent of the STEM workforce.
"My first distinct memory of the gender imbalance in STEM was at UBC in the 1990s. I noticed that there were only a handful of female chemistry professors. There are many more today so it's definitely progressing, but there are still challenges that occur beyond the gender imbalance, whether it has to do with salary or opportunity for promotion. And when you have a family, it also changes things."
The young female protagonist in The Science of Boys relies on science, which offers her stability no matter what kind of difficult situations she encounters.
"I've had many people, not just of the target demographic, tell me that they've enjoyed the book."
The Science of Boys deals with peer pressure, negative effects of technology, body image issues and changing dynamics in relationships.
"I've had moms come up to me and say their sons understand them more after reading it. I've had eight and nine-year-olds read the book who really like it because they are curious about what happens, and though they might not understand every single line in the book, it opens up discussion. Teens tell me that the book is relatable and adults tell me that it is nostalgic and brings them back to their adolescence. I think the main reason so many people resonate with the story is because it contains universal themes of belonging, acceptance, heartbreak and love and ties them together with the universal language of science."
Emily has two other books: Our World: Japan and The Perfect Sushi (releasing this spring).