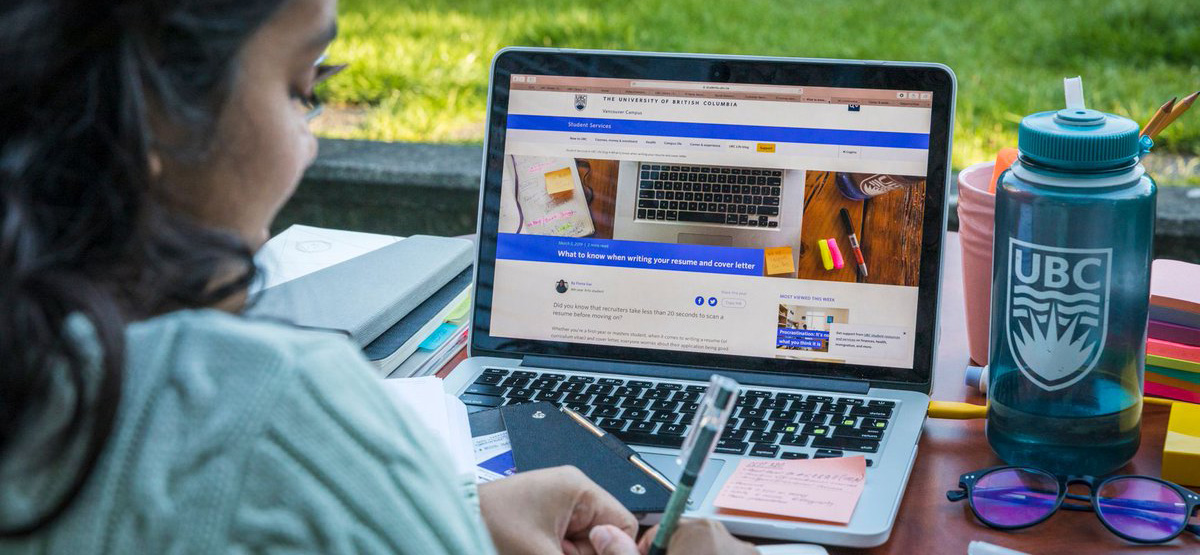 Whether you're joining us in first year or further along in your studies, you're continuing your journey in science at an unprecedented time. Rest assured, there's no better place to invest your undergraduate years than at UBC Science. Online or off, we're committed to helping you build a strong foundation for your degree.
UBC Science is a recognized leader in transforming and improving STEM education. Over the past decade we've made significant investments to enrich the learning experience of thousands of science students and help you succeed. UBC Science is approaching the challenges brought on by COVID-19 with the same dedication and determination.
While most – if not almost all – of our undergraduate science classes will continue to be delivered online, we're working to ensure we deliver a high-quality experience. Our award-winning instructors are realigning their courses for online delivery to help students engage with material. They're also structuring their classes and assignments to help students manage their time and keep up with readings and assignments. Instructors and teaching assistants will be available during scheduled classes, through virtual office hours, and via UBC's online platforms.
We know social interaction and community are major components of the university experience. UBC Science is fortunate to have a well-established network of dedicated, intelligent and caring students who nurture an incredible sense of community, on campus and online. Our orientation leaders are dedicated to helping students break the ice, connect with resources, and lend a hand. UBC Science peer academic coaches, trained to help students make the transition to university studies, are here to help.
UBC Science is known for its superior lab, fieldwork and Co-op opportunities. While those programs are adjusting their delivery as part of our response to COVID-19, they remain central to the experience we offer students. UBC Science Co-op is maintaining its support levels for our students and employers.
We know this transition has been challenging for students, educators and parents. But thanks to our dedicated faculty, staff and students, we've shifted to high-quality online learning and examinations as smoothly as possible. And alongside you, we're still learning as we continue preparations for the fall.
The coming months are one part of your longer journey—at UBC and beyond—in science. We're committed to navigating the next terms with you—with flexibility, compassion, and of course, tireless curiosity.
Meigan Aronson, Dean, UBC Science
Ian Cavers, Associate Dean, Students, UBC Science
Karen Smith, who teaches biology and microbiology, on what the fall will look like for UBC Science students
Elisa Baniassad, who teaches computer science, on what the fall will look like for UBC Science students
James Charbonneau, who teaches physics, on what the fall will look like for UBC Science students
Jay Wickenden, who teaches chemistry, on tips for online learning and lessons learned