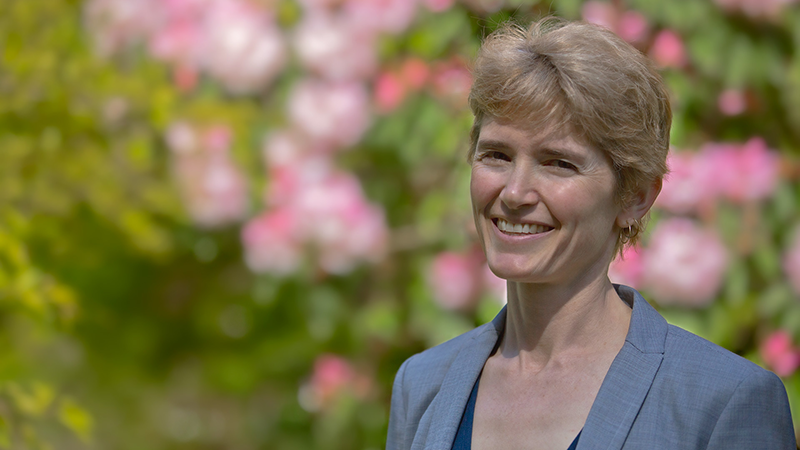 When science students walk into a traditional lab class, they may end up following a recipe. Mix this, add that. Voila. You have a result, a reaction. Then they move on to the next page in the cookbook.
Linda Strubbe is determined to help rewrite that cookbook.
"It's just not a very authentic reflection of a scientist's experience," says Strubbe, a UBC Science Teaching and Learning Fellow (STLF) in Physics and Astronomy.
Strubbe's goal is to help students think like scientists — push them to reflect on their data and the uncertainty inherent in it. That means students problem-solve together, and even help determine the problem they should solve in the first place.
Some of the activities, developed by UBC researchers, which Strubbe utilizes in first-year physics labs at UBC include using a pendulum to understand the experimental cycle (measure, make comparisons, reflect on the comparisons and plan an improvement).
Other activities require students to 'invent' a solution. The objective isn't to come up with the correct answer, but to discover the correct way to arrive at an answer.
"We use an egg to help students understand when a weighted mean is a useful quantity to calculate, and what the formula is for the weighted mean," she explains. "Students are asked to consider data about the diameters of four ostrich eggs measured by four chefs on Iron Chef, and try to figure out a procedure for determining which is the biggest egg."
Strubbe's work is part of a commitment to evidence-based, active learning that has rolled out across UBC Science since 2007, with the launch of the Carl Wieman Science Education Initiative (CWSEI). That initiative—and renewed efforts in research, evaluation and flexible learning—have dramatically improved undergraduate science education for thousands of UBC students over the last decade.
Major changes this year include modifications to large lab courses at UBC. The Third Year Integrated Chemistry Laboratory course now emphasizes the common ground between sub-disciplines and uses student-customized schedules. Instead of students going to a single lab, say an organic lab each Monday, they experience different labs (inorganic, organic, analytical) in a term. Other classes are constantly transformed, adding in-class worksheets, the use of clickers (wireless handheld devices that allow students to respond to classroom polls and quizzes) or group discussions.
"When you walk into my classroom sometimes it would seem like the instructor isn't doing much," says Sara Harris, a UBC geological oceanographer and 3M National Teaching Fellowship winner. But that's the point, she says. Harris wants students to do the talking, to share information and take control of their learning experience.
This summer, Harris is once again running a massive open online course (MOOC) on climate change. It's the fifth iteration of the class. To make the online experience more active, Harris asks her students to write content, creating a crowd-sourced climate map of the world.
"People get to write about the climate changes they are experiencing in the places where they live," she explains. "It allows us to discuss and share information about a wide range of issues."
It's also, she says, a more effective lesson than a simple lecture.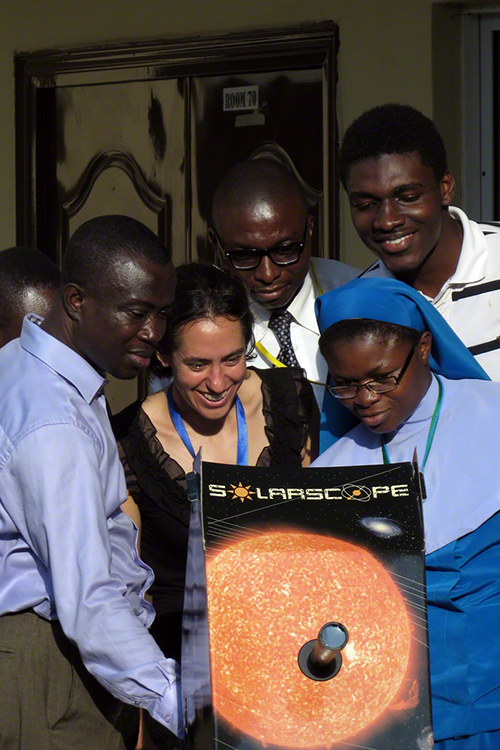 Learning beyond the lecture
A study by UBC post-doctoral researcher Louis Deslauriers in 2011 showed that students in an interactive physics class did nearly twice as well in a test designed to determine their grasp of complex physics concepts. Attendance in the interactive class also increased by 20 per cent during the experiment. A department-wide study led by UBC researcher Megan Barker showed biology students in "extensive group work" classes perform significantly better than students in lecture-type classes. Other UBC research indicates the use of clickers bolsters student attendance and engagement.
And it's not just UBC researchers who have noticed the difference. A 2014 paper led by Scott Freeman at the University of Washington showed that STEM student performance on examinations and concept inventories increased in active learning classes, while students in classes with traditional lecturing were 1.5 times more likely to fail than active learning students.
To date, more than 170 UBC Science courses have been transformed using evidence-based active learning teaching practices — approximately 40 per cent of the Faculty's undergraduate courses. Many of the changes are taking place at the first- and second-year level.
UBC's Dean of Science, Simon Peacock, believes this comprehensive move towards active learning places the university at the leading edge of science education.
"I feel a tremendous amount of excitement and pride," Peacock says. "Our faculty and staff are passionate about student learning, and continue to search for ways to make undergraduate student education more engaging and effective."
The shift, however, hasn't always been easy.
University culture can be resistant to change for a number of reasons. Professors, already short of time, may simply view such strategies as a form of 'coddling' students. Others may require a longer amount of time to become comfortable with new teaching strategies.
Geologist James Scoates was one of those professors.
"Like many other faculty, I didn't fully appreciate how passive our old model of teaching was," Scoates says. "I didn't have any experience with active learning, and I didn't know how the proposed change was really going to be implemented in my own courses."
It's not only instructors who often have reservations about active learning. Research by Fox-Cardamone and Rue (2003) showed that even though 70 per cent of students enjoyed small-group discussions, almost 80 per cent preferred more traditional teaching methods. At UBC, a 2012 study by Ashley Welsh showed that fourth-year science students were more likely to view active learning as a waste of lecture time, while second and third-year students said it enhanced their understanding and interactions.
But most research does indicate active learning improves outcomes and engagement. Some of the dissatisfaction with new teaching methods may be the perception — which is hard to overcome — that classes can only be taught in lecture form. After all, when we think of a classroom most of us picture a blackboard and a person standing at the front, writing on it.
However, instructors like Scoates say they have become reenergized by active learning and found it really does work, based on surveys and evaluations conducted in their classes. Scoates, on sabbatical as an International Chair at Université Libre de Bruxelles in Belgium, recently organized a workshop that used active learning principles. The students in Brussels had never been exposed to this kind of teaching, but it was a huge success.
"Students anywhere respond very positively to active learning. These students were not accustomed to responding to direct questions in class, however, they quickly learned to vocalize their knowledge and uncertainty. That led to better overall comprehension of the material."
Strubbe, who taught at the West African International Summer School for Young Astronomers, had a similar experience in Nigeria. Although students and instructors there rely on lectures, she says they enjoyed participating in active learning classes.
It's not only the active learning portion of UBC's initiatives that is important, though. The Faculty of Science follows an evidence-based approach. It is a cycle of establishing what students should learn, determining what they are actually learning, and improving student learning.
"We are scientists, so we should look for evidence, but we are often not very scientific about our teaching," Strubbe says. "Many times we go with our gut feeling, we think, 'Oh, they get it.' But the students aren't actually learning what we think they are."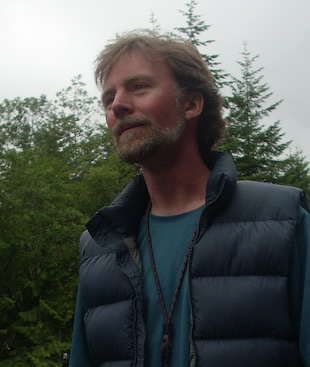 Facilitating change and building community
The large-scale adoption of evidence-based active teaching practices at UBC is supported by more than a dozen STLFs. Each STLF brings expertise in a specific discipline, as well as knowledge of relevant teaching methods and research on learning. They help departments develop new materials, design assessment methods and serve as course consultants.
In order to ensure class transformations continue to gain traction, UBC also uses "paired teaching" to pass on knowledge. Two faculty members, one of them with experience transforming a course, are collaboratively responsible for all aspects of teaching a course.
The annual Science Education Open House and monthly Science Education Supper Series organized by Skylight, UBC's Science Centre for Learning and Teaching, serve as points of contact for professors.
"It is difficulty for individual faculty members to be aware of others' teaching practices even when they are in the same department " says Gulnur Birol, director of Skylight, which works in conjunction with CWSEI to support teaching and learning practices. "We provide opportunities for faculty members to share their practices, work and findings with their colleagues."
All this might make active learning sound daunting, but Scoates started small. He began with short, five- to 10-minute activities, typically worksheets, and through the years has modified his teaching to include longer exercises. These 'framework activities' can be 50 minutes long. Students in his mineralogy class work together in groups to access relevant information online to solve problems. They also bring field work into classes—reading maps and interpreting geological relationships.
Large-scale educational changes such as the ones at UBC require time and resources, but also a long-term sense of commitment. It's not an easy journey, but the UBC professors who have undertaken it believe it is worth attempting.
"Active learning can be translated to any educational opportunity for students or professionals at all stages of their careers. It makes teaching and learning more effective and definitely more enjoyable," says Scoates.